All kits are HO scale unless noted
1906 24' x 60' Standard Depot Kit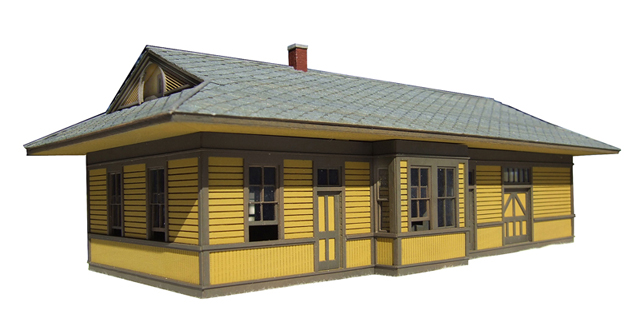 Photos by Charlie Duckworth
Missouri Pacific - St. Louis Iron Mountain & Southern
1906 Standard Northern Depot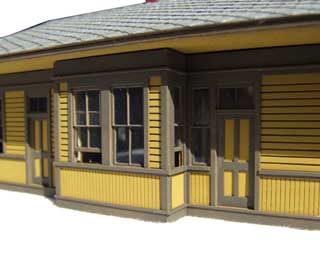 This model represents a standard "Northern" depot design built by Missouri Pacific and St. Louis Iron Mountain & Southern. The MP/IM, which were under common management, used a series of standard designs for their wood stations. They were built in several sizes, usually with the waiting room and operators bay remaining the same size and the size of the freight room being adjusted to suite the size of town where the depot was located and the amount of business conducted.
Features
9 5/8" x 4 1/2" (over the eaves)
One piece wall sections with the "V" grove wainscoting and board & battens laser scribe
Two piece window sashes - upper and lower- which can be modeled in an open or closed position
Raised panels on all waiting room and trainman's doors
All windows and trim have self-adhesive backing for ease of construction
All walls - both interior and exterior - feature tabbed construction
Diamond shingles with self-adhesive backing
Decorative lattice for the gable ends
Read or download Instructions PDF
This kit is available with the bay and waiting room on the left in as shown or on the right.
Kit 1001L -Bay on the left $69.98
Kit 1001R -Bay on the right $69.98

$69.98