Ramblings -
Hi, I'm Bill Hoss and Lake Junction Models, LLC is my company. To give you a little background, I'm currently pushing 65 (after Dec it will be from the wrong side!) and have been a model railroader since the early 1950's first with Lionel and then HO. I grew up watching the parade of trains on Missouri Pacific's main line from St. Louis to Kansas City which ran behind our house. St. Louis still had a number of streetcar lines in service which kindled a life long love of all things traction. After graduating high school, I went to college, spent three years in the army (1966 to 1969) and worked nine years at the National Museum of Transport in St. Louis County doing restoration of exhibits. I worked for over 20 years in the commercial model building industry, most of it designing model railroad kits and have in the last year and a half been semi-retired and have started this company to produce kits and do custom work for others.
I hope that you enjoy the products that I am and will in the future be producing. Please don't hesitate to contact me with any questions or comments or some special need that you have. I'm always open to new ideas and the options of others.
As you have probably noticed already, I'm not a web designer. Please let me know if you run into any problems on this site and I'll try to correct them as fast as I can. Between designing, producing assembling samples and trying to get the occasional advertisement out I'm stretched pretty thin (though photos of me don't look it.) You can see I keep a clean shop too.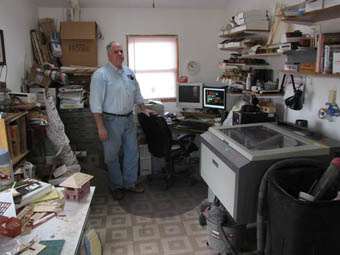 I'll write a few notes here from time to time either on some aspect of building and decorating kits or something that just crosses my mind. The new entries will be at the top and others descending by date.
-Bill
May 7, 2012 - I've added three photos to the gallery section. If you've pruchase one of my kits and found time to build it, I hope you'll send a photo or two for me to post to this area of the site.
May 4, 2012 - Added a new page three to the STRUCTURES section. I've also added the pay buttons to the Baltimore & Ohio class I-1 caboose kits in S scale. There are located on the Cabooses page. There are four version of the basic body. One with "coach" style steps, one with the later vertical steps, and two similar versions of a cupola less transfer caboose. The HO scale kits should be available before the end of summer. These kits come without trucks, couplers and decals.
Speaking of B&O I now have three standard right of way structures in S scale with HO to follow soon. These are a 16' x30' freight house with dock, a tool house and a coal and oil house. A standard coal shed is almost finished.
Under the Miscellaneous Parts heading heading I have added to the number of railroads that I produce right of way signs for as well as another 50,000 gallon water tank back cast from urethane. This or the previous C&NW base would a be great detail for the right of way of a modern diesel era layout showing the location of an abandoned water tank from the days of steam. The new base will also work with the American Model Builders water tank kit.
There's more coming. Writing the instructions continues to be the biggest road block and the part I hate the most....
May 1, 2012 - I've finally got a little time to try and get the site updated to add new items. If you run into a problem with any of the links or Pay Pal buttons, please let me know so I can fix them.
for older information see Archive-1.html